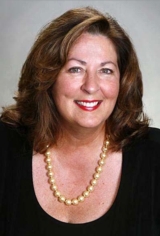 Linda Christman
Senior Sales Associate Back Bay/Beacon Hill Office
617-904-3006
617-510-2176
617-227-5571

About Linda
As a longtime resident of Boston, Linda's experience and expertise spans citywide. Linda brings first-hand knowledge of Boston's many neighborhoods to her clients. In 1992, she entered the profession of residential real estate after working in the fields of human resources and property management.
Linda's success is attributed to her dedication to making her clients' real estate experience an enjoyable one. She has a great sense of humor and is quick to understand her client's needs in order to meet their goals.
Linda has also been involved in several historic renovations in Boston as well as a medieval church in Provence, France. She designed and supervised the construction of a post and beam home on an island off the coast of Maine. She was also the owner of The Commercial Kitchen, a company offering consulting services to architects and home owners on the correct installation of restaurant grade appliances in residential kitchens.
Her avid interest in the culinary arts took Linda to France and Italy, where she lived and studied with some notable chefs. She has also studied creative writing at Lesley College with an emphasis on food and travel and teaches cooking classes in her spare time.
Linda's extensive knowledge of all aspects of the real estate profession enables her to provide clients with the highest level of service. No matter your level of experience with buying or selling, she will make the experience a smooth one.